7 Best 75W140 Synthetic Gear Oil [Top Picks & Reviews]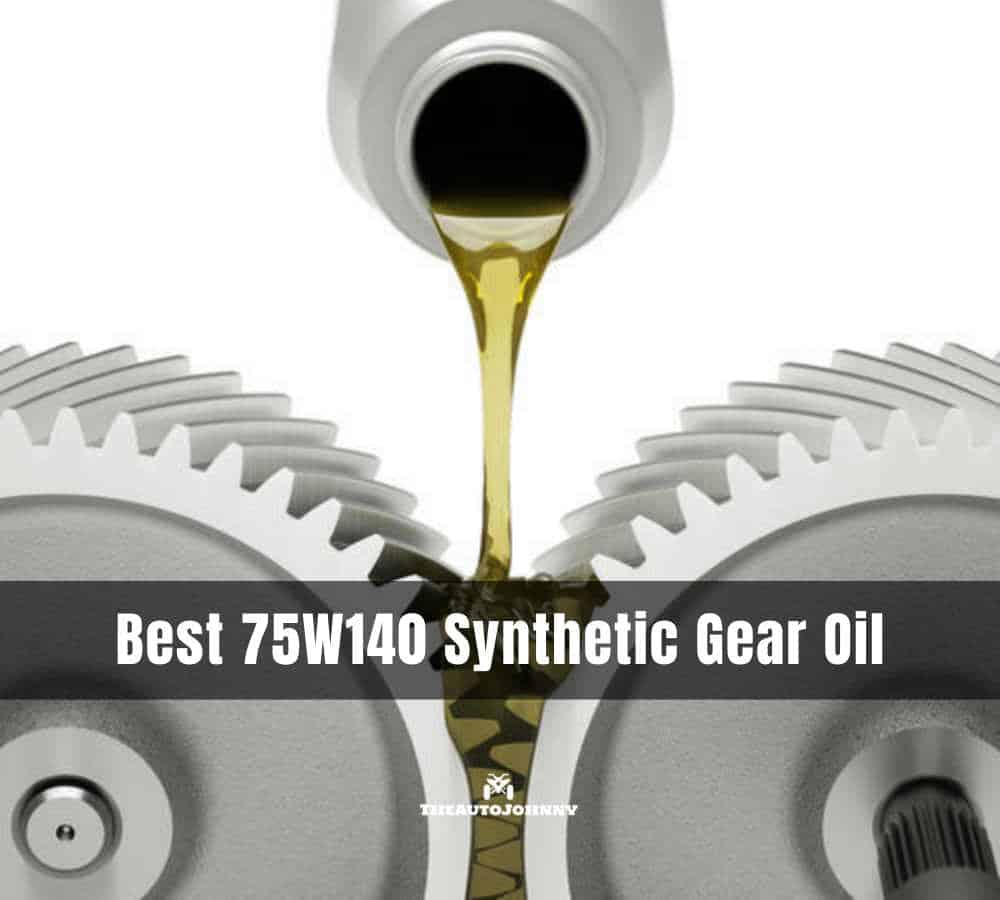 Standard automotive oil merely meets the lubrication specs for any gear set. Instead of mineral oil, you'll have to hunt down a suitable gearbox oil.
There are many differences to consider, prior to its costly purchase. And you can receive the best outcome with the 75W-140 grade in particular.
It's one popular formula to satisfy all the fundamental gear specs. Unfortunately, you'll have to go through numerous options towards a decisive investment.
Why don't save time to make a reliable purchase with comfort? As it happens, you better settle for our detailed best 75W140 synthetic gear oil content.
Let's check out the quick comparison to know the top picks.
Best 75W140 Synthetic Gear Oil – Comparisons
| Product | Suitability | Key Feature | Price |
| --- | --- | --- | --- |
| 1. Red Line 75W140 GL-5 Gear Oil | Cars & Light Trucks | Polyester Base Stocks | |
| 2. Valvoline SynPower SAE 75W-140 Gear Oil | Automotive & Trucks | Extreme Pressure Lubrication | |
| 3. ROYAL PURPLE MAX GEAR 75W140 | Trucks & Differentials | Maximum Drivetrain Power | |
| 4. Lucas SAE 75W-140 Transmission Lube Oil | Cars, Vans & Trucks | Gear Cushioning Support | |
| 5. Mobil 1 75W-140 Synthetic Gear Lube | Cars, Jeeps & Trucks | GL-5 EP Classification | |
| 6. Liqui Moly 75W-140 Limited Slip Gear Oil | Automotive & Light Trucks | High Motorsport Suitability | |
| 7. AMSOIL FULL SYNTHETIC Severe Gear Oil | Cars, SUVs & Light Trucks | Additional Oil Compatibility | |
What is Gear Oil?
Gear oil for modern engine systems features a synthetic molecule base. It's simply the artificial version of naturally occurring mineral oil. There are several advantages of gear oil over refined fluids.
Regular oils can't withstand the extreme adversity upon hauling loads. Problems can occur from heat, defects, pressure & other rigors. It's almost impossible to handle everything right away.
Extra rating prevails on viscosity index, hydrolytic stability, chemical action & temp tolerance. Whenever mineral oil can't meet the specs, specified gear oil comes to offer the ultimate solution.
What Does 75W-140 Mean?
The depicted value indicates the viscosity or fluidity; 'W' referring to Winter Suitability. Numeric value right before the 'W' seems to determine the cold temp flowability.
In fact, the transmission gearbox oil remains in a liquid state up to -40°C. And the later '140' reveals the effective kinematic viscosity of the featured oil at 100°C.
7 Best 75w140 Gear Oil Reviews
Some basic differences should come to light from the quick comparison. But you can use the details for understanding the options closely. Check out the best 75W140 synthetic gear oil reviews right below.
1. Red Line 75W140 GL-5 Gear Oil
Handle all the mechanical extremities through an encouraging system property.
The very first enlisted option comes to serve the primary aspects of satisfaction. It's rather difficult to outmatch the convenience of Red Line 57915.
The intended formula promises maximum internal lubrication against all odds. And the price holds a standard tag to meet the budget.
Features & Benefits
Polyester Stocks
It's full synthetic formula specifically serves extreme mechanical adversity. And the molecules come from polyester base stocks. You can't get the formula for regular uses. High slipperiness prevails to keep the interior surfaces lubricated all the time.
Viscosity Index
Of course, a 75W-140 rating means an intense fluidity for special conditions. Its high viscosity index (VI) upholds the consistency in its service. The imposed film thickness remains almost the same against varying temperatures.
Friction Modifier
The best gear oil for manual transmission also features a good portion of friction modifiers. You don't have to spend on additional modifying agents. Its presence encourages the suitability with clutch-type slip differentials.
Pros
Extreme surface lubrication.
Sufficient formula thickness.
Reduction in sliding friction.
Outstanding shear stability.
Cons
2. Valvoline SynPower SAE 75W-140 Gear Oil
Skip the troubles with ordinary mineral oils to support extreme conditions.
The premium formula comes from a reputed brand to hold your attention. Valvoline develops its powerful gear fluid to keep you driving with ease.
Its featured formula can provide maximum system support on demand. Even for the small-sized container, its price tag seems somewhat low.
Features & Benefits
SynPower Formula
Its fully synthetic formula keeps up the pace with adverse conditions. Included SynPower technology pushes the overall efficiency forward. The design specifically suits limited-slip hypoid differentials. Also, you can use the liquid for conventional lubricants.
Ultimate Protection
Almost all the major aspects get influenced to initiate the upgrade. The supporting performance remains intact to keep going at a constant rate. Of course, there are functional additives to support the action. No rust, corrosion, or chattering will ever occur.
Thermal Stability
Valvoline 75W140 synthetic gear oil review upholds the protective action for itself. Superior thermal stability maintains maximum interior cleanliness to promote the service lifespan. The fluid can counteract low-temp adversity with extreme capability.
Pros
Excellent temperature action.
Special protective additives.
Completely intact gear teeth.
Satisfactory vehicle usability.
Cons
3. ROYAL PURPLE MAX GEAR 75W140
Exceptional demand fulfillment rate initiates optimum protective performance on the action.
Among all the recognized brands, Royal Purple definitely has its place. Likewise, you can utilize its premium gear fluid to stand the rigors.
Special design imparts superior reliability without sacrificing the desired durability. Of course, you just have to settle for its expensive tag.
Features & Benefits
Superior Efficiency
It comes with a synchronizer safe concentration to serve the intended purpose. The bearing & gear starts to occupy the actual lifespan. Your system will certainly run smoother, quieter, cooler & longer. Reduced drivetrain drag maximizes the horsepower on output.
Extended Life
Proprietary Synerlec additive technology combines some powerful chemical agents. All the internal parts remain secure with the API GL-5 oil. Reduced inner temperature declines coefficient of friction. And the metal can withstand damaging wear, corrosion & rust.
Responsible Liquid
Full synthetic molecules come highly environmentally responsible to prevent pollution. Lucas 75W140 synthetic gear oil review reveals its suitability for limited-slip differential & manual transmission. It even initiates optimum protection for heavily loaded gears.
Pros
Rapid separation of water.
Standard operating temp.
Maximized output power.
Friction modifying additive.
Cons
4. Lucas SAE 75W-140 Transmission and Differential Lube Oil
Just skip ordinary mineral oils for heavy, intense & adverse on-road applications.
Specialized formulation of Lucas should get a chance to make up your mind. The featured liquid comes ready to conquer all mechanical adversities.
Feeding the engine induces a new life with the best 75W140 gear oil. Even the price seems slightly lower in comparison to its counterparts.
Features & Benefits
Superb Stability
Like all others, the gear oil features 100% synthetic molecules. And the concentration stands uniform against all conditions. It specifically helps with the retention of its overall stability. Whether it's heat or pressure – your system remains intact.
Sufficient Outcome
Your mechanism starts to respond better from the startup. Optimum cleanliness retains absolute freshness to ensure maximum support. Immediate lubrication keeps the metal slippery, reducing metal friction. Therefore, you're to achieve further output with an increased economy.
Special Additives
Of course, a certain part of the concentration features chemical additives. Apart from inner cleanups, the agents maintain consistent protection against meta wear & rusty corrosion. Right there, your system efficiency stands at its peak rating.
Pros
Non-foaming synthetic fluidity.
Functional surface lubrication.
Superb temperature tolerance.
Gear cushioning performance.
Cons
Chirping on the rear end.
5. Mobil 1 75W-140 Synthetic Gear Lube
Creativity & innovation gets together to ensure maximum productivity on the run.
There's nothing to question Mobil's capability to provide high-quality fluids. The featured 102490 seems like a random pick from the whole bucket.
You'll have the absolute best gear oil for limited-slip differentials engine system. Spending on its higher tag should come satisfactory in return service.
Features & Benefits
Premium Formula
The synthetic molecules can immediately adapt to the system complexity. Formula remains uniform to ensure maximum support on demand. Right there, it comes ready to stand against rigorous activities.
Extreme Cleanliness
Integration of some standard additives encourages the oil activeness. Powerful chemical agents dissolve all the previous deposits from the start. Absolute cleanliness helps the internal parts to retain its efficiency. No wear, corrosion, or breakdown is likely to take place.
Sufficient Usability
The formula specifically suits the requirements of light trucks & SUVs. You just need to continue pouring for refilling the tank. Apart from others, you can utilize the oil for certain car models.
Pros
Pure synthetic formulation.
Enduring service lifespan.
Powerful chemical additives.
Maximum inner protection.
Cons
6. Liqui Moly 75W-140 Limited Slip Gear Oil
Let the exclusive German formula serves the engine requirements satisfactorily.
Aside from the USA-based brands, you can definitely count on Liqui Moly. And the featured 20042 liquid can withstand all sorts of rigorous stresses.
Superb quality, optimum dynamics & absolute emotion adorn productivity. But the price seems somewhat costly, not exceeding the range.
Features & Benefits
Stable Molecules
As it happens, pure synthetics make up the concentration with uniformity. For the best part, it can support the immense mechanical complexity. The best gear oil for towing holds high stability to continue with the stressful mechanism.
Powerful Cleanup
Certain presence of common additives performs secondary tasks. No carbon residual can start piling up the deposit anymore. And the existing buildups get dissolved in minimal time. Fresh interior upholds the actually depicted performance.
High-Stress Axle
The formula suits BMW axle drives better than anything else. It remains completely functional throughout the service lifespan. You better get it for axle drives without limited-slip differentials. Not to mention, motorsport cars are the best candidate for the fluid.
Pros
Extension of spec longevity.
No depository aggregation.
Maximum chemical stability.
Specified motorsport uses.
Cons
7. AMSOIL FULL SYNTHETIC Severe Gear Oil
No more problems regarding unfavorable conditions on the ride.
It's the last one from the list, nothing to do with compromised quality. Amsoil develops its fluid to address the extreme driving conditions satisfactorily.
Of course, there are points for the best gear oil to occupy the last position. Unfortunately, the price tag is somewhat higher than any competitive option.
Features & Benefits
Synthetic Lubricant
Premium formulation holds the pace to serve the intended engine demands. 100% synthetic molecules in a uniform concentration already eased the job. Its incredible lubricating property initiates lowered metal friction to waste energy.
High Compatibility
The fluid comes with a heavy-duty class 8-line haul to prove its worth. It can even withstand the immense stress of off-road adventures. Whether it's some standard car, SUV, or light truck – you'll receive maximum serviceability.
Additive's Function
Without a doubt, a certain portion gets to cover chemical agents. And the integration of cleaning additives maintains a balanced interior environment. Your system will no longer experience wear, buildups, or corrosion. Freshness hits the roof, retaining the complete efficiency.
Pros
Compatible fluid mixture.
Heavy on-road applications.
Easy pouring container.
Stabilized molecular level.
Cons
How to Choose the Best Synthetic Gear Oil?
There are overwhelming options in hand, even with 75W140 gear oils. Likewise, you can't get anything just from label judgment. Some essential points influence the primary outcome to present its true value.
System Specs
Of course, the first consideration goes with the recommendation. You ought to look into the vehicle manual to determine the right one. There's no need to switch brands or versions for any specified preferences.
Stable Molecules
Almost all the available fuel induces a 100% synthetic formula. Uniformity also prevails to ensure maximum response on demand. But double-check the acceptance regarding its ability to stand the rigors.
Fuel Grade
Classification of gear oil based on grading isn't exactly a breeze for common people. There are lots of W-variations, simply concerning the defined grades. Apart from SAE, you better settled for GL-5 for a better response.
Chemical Agents
What actually makes gear oil so special from mineral fluids? The answer remains straightforward with the presence of particular chemical compounds. Know the additives to support the operational severity.
Slippery Action
You just can't use regular oils on heavy-duty gearbox applications. Featured oil integrates superb lubrication capability, much higher than mineral ones. You better confirm its lubricating properties before purchase.
How to Check Gearbox Oil Level?
One essential task concerning oil maintenance goes at its current level. You can easily monitor the gearbox level through the following steps –
#1. Park the vehicle on any flat surface, applying a parking brake. Let the engine idle until the oil remains warm.
#2. Locate the gear oil dipstick after popping the bonnet. Gently pull the dipstick out of the assembly for cleanup.
#3. Carefully reinstall the dipstick in its intended position. Check the dipstick out for getting the parallel lines.
#4. The oil level should stand close to the "hot" line on the dipstick. Add the recommended oil for low fuel level.
What are the Signs of Low Gearbox Oil?
Low gearbox oil requires immediate refill to avoid some devastating damage. There are definite symptoms to check the gearbox oil level right away.
Slippery car transmission with sudden up & down gear shifts.
Burning smell or black smoke coming right out of the hood.
Noticeable pause during gear shifts over low hydraulic pressure.
Pretty random, irregular, erroneous & unresponsive gear shift.
Whirring, grinding, clunking along with shuddering sensation.
Some patches of reddish liquid from leaks right under the tank.
Different Types of Gear Oil Grades Explained
Normal engine oils mostly depend on SAE rating for its sequential grades. But grading the gear oil is more complex with significant differences in its properties. You must understand the grade types for meeting the specs satisfactorily.
Base Grade
The intended grade primarily reveals specific underlying properties. It comes from a simple GL-based number grading.
GL-1 – GL-3: The previous version of gear oil to handle pressure, heat & friction.
GL-4: Arguably the most preferable grade, containing a certain additive volume.
GL-5: Extra number of additives ensure high load resistance for hypoid gears.
SAE Grade
It's indeed the most recognized label to certify the oil's viscosity. For gear oil, SAE grade features 60 or above numbers.
Monograde: The fuel remains operating at one specified ambient temperature.
Multi-grade: Built-in additives allow the liquid to operate at varying temperatures.
Comparing: Indirect comparison to depict the similar viscosity for mineral oils.
Other Grades
There are several other organizations to establish somewhat different indices. You may count ISO, AGMA, NLGI & even ASTM. The grades have different labels, presentation & meaning. But likewise, you can establish a comparison between the similar grading in one table.
Difference Between 75W90 & 75W140 Gear Oil
For any standard gearbox application, the first confusion arises with the grading. Among other options, 75W-90 & 75W-140 oils get more attention. You should know the basic difference between the two for skipping any conundrum.
Both the liquids share the very first portion, uttering "75W". It reveals an exact similarity to the respective dynamic viscosity regarding cold temperature uses. But the variable 2nd portion to utter 90/140 initiates high kinematic viscosity for the latter.
Frequently Asked Questions (FAQs)
Q: Can you use 75W140 instead of 75W90?
Answer: At operating temp, 75W140 gets much thicker to serve. You better use the manufacturer recommended oil.
Q: When to change gear oil in an automatic car?
Answer: Automatic gearboxes call for an oil change every 60000 miles to 100000 miles. Know the oil specs to estimate the approximate interval.
Q: How long does synthetic gear oil last?
Answer:  Gear oil is likely to last 30000 miles with heavy applications on a frequent basis. But the lifespan counts 50000 miles with normal uses.
Final Words
Normal mineral oils can handle normal driving conditions, not heavy extremities. That's where you'll have to settle for the best 75W140 synthetic gear oil. A careful purchase can help you to avoid on-road mechanical hassles.
Unless you have any restrictions, Red Line 75W140 GL-5 Gear Oil seems the best. The formula promises to remain stable against the harshest adversity. For a reasonable price, you'll receive maximum efficiency throughout the service.
Happy Driving.