7 Best 75W90 Gear Oil [Top Picks & Reviews 2021]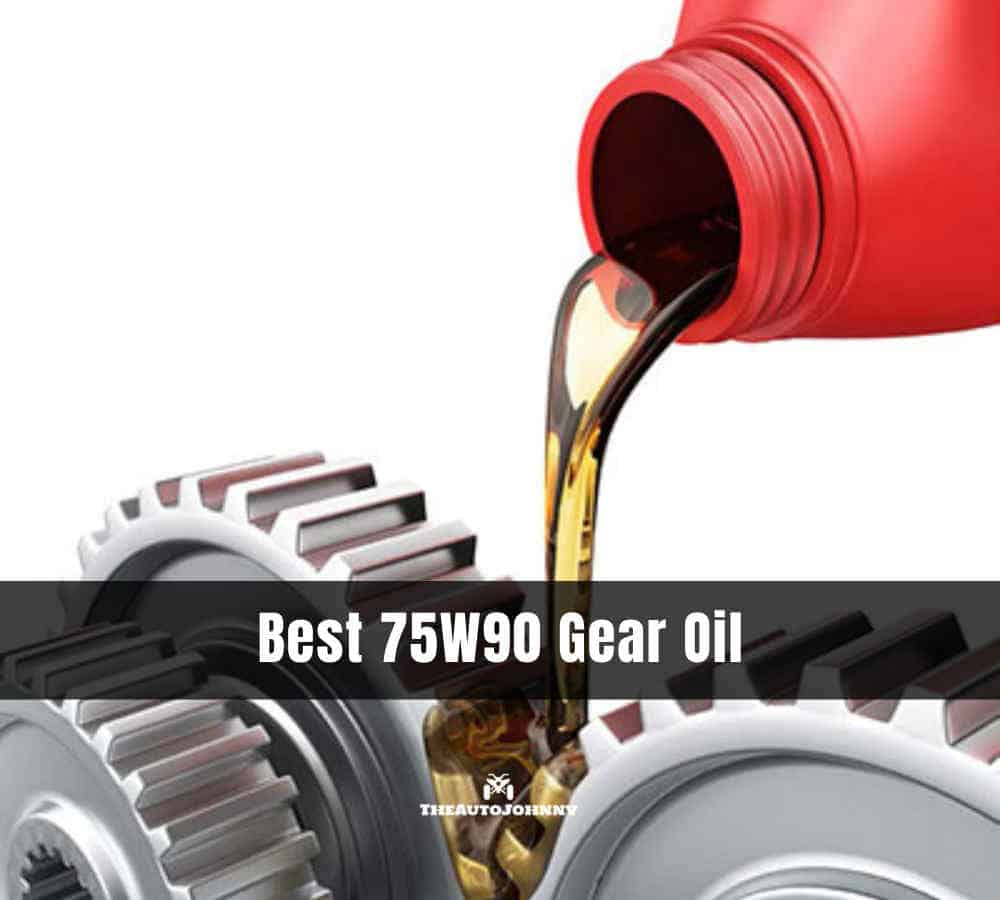 If you sometimes find yourself wondering what oil is best for gearbox? Well, then, you are in the right place right now.
The gear and transmission system of any automobile is in constant need of lubrication.
As these systems face harsh metal-to-metal each millisecond, they produce immense heat and pressure. The issue affects the overall performance and life of the engine.
So, using an efficient gear lube is crucial to maintain the performance and longevity of your vehicle.
But it is not that easy to select the right one for you, especially if you are a beginner.
There are quite a few options available in the current market. So, which one is the Best 75w90 gear oil for your automobile?
Let's find out-
Best 75W90 Gear Oil – Comparisons
| Gear Oil | Key Feature | Base Component | Price |
| --- | --- | --- | --- |
| 1. Mobil 1,75W-90 Synthetic Gear Lube | Multi-purpose | Synthetic | |
| 2. Red Line MT-90 75W-90 Manual Transmission Gear Oil | Smooth shift | Synthetic | |
| 3. Lucas Oil 10047 Transmission and Differential Lube | Non-foaming | Synthetic | |
| 4. Valvoline SynPower SAE 75W-90 Gear Oil | Long service life | Synthetic | |
| 5. Amsoil Full Synthetic Severe Gear Lube | Prevents thermal runaway | Synthetic | |
| 6. Royal Purple Max Gear 75W-90 gear oil | Low operation temperature | Synthetic | |
| 7. Castrol Syntrax Limited-slip 75W-90 Gear Oil | Extended drain interval | Synthetic | |
7 Best 75W90 Gear Oil Reviews
Finding the right gear oil for your transmission system is not easy. But it is crucial to choose the best one to prevent any damage to the gear system.
Now the question arises – what is the best 75w90 gear oil?
Well, we are more than glad to help you find the best gear oil for manual transmission. Let's dive deep.
1. Mobil 1 75W-90 Synthetic Gear Lube
Don't you want gear oil that ensures limited slip with great performance? If the answer is positive, then Mobile 1 is the best choice for your vehicle.
This gear oil is fully synthetic. It also combines wax-free hydrocarbon-based synthesized oils. It is specially engineered to meet the requirements of all sorts of modern vehicles. Also, you can receive a high-performance output.
This gear oil is multi-purpose.
Features and Benefits
Limited Slip Guarantee
It contains specially designed friction modifiers for limited-slip differentials. So, you no longer have to worry about additional special limited-slip additives. And, for axle requirements, you can add OEM specified limited-slip sulfur-phosphorous additives for better performance.
Efficient Viscosity Rating
This oil has the optimal viscosity rating to perform at its best in any temperature conditions. Due to the 75W-90 viscosity rating, it offers great oxidation protection along with wear protection.
It helps to control viscosity loss due to premature shearing.
Performance with Protection
This oil guarantees better performance than other convention oils in the market under high speed, high torque, and high-power demand.
Pros
Limited-slip action.
Low fluid friction.
Anti-corrosive design.
Better fuel economy.
Good thermal protection.
Cons
2. Red Line MT-90 75W-90 Manual Transmission Gear Oil
How about a gear oil that reduces notchy shifting even in low temperatures? If that's what you are looking for, then Red Line gear oil is the right one for you.
Red Line offers a fast and smooth shift. It also guarantees perfect synchronizer frictional co-efficient. That's why the oil is incredibly popular with Nissan, Audi, VW, Toyota, and other world-famous automobile companies.
 Features and Benefits
Longer life
This oil provides longer gear and synchro life along with great gear protection. The fully synthetic composition of this gear oil offers better performance alone with improvised horse-power.
This gear oil seems pretty safe for brass synchro. As it contains less sulfur than most other GL-5 oils which are more prone to causing damage.
Versatility
Although this oil comes with a viscosity rating of 75W-90, it can work for 80w-90, 10W-40, and 15W-40 as gear oil. It is even recommended for GL-1, GL-3, and GL-4 applications.
Less Slippage
The frame comes with unique less-slipping technology. It can perform at its highest even at high temperatures. It works fine with both the high and low mileage vehicles.
Pros
Brass synchronizer facility.
Good thermal stability.
Versatile system applications.
Better shifting response.
Improved frictional co-efficient.
Cons
3. Lucas Oil 10047 Synthetic Transmission and Differential Lube
Are you looking for a non-foaming gear lube? Lucas gear oil can be your savior then.
If you are disappointed with other gear lubricants, give Lucas oil a try. This oil promises to deliver the best performance even when the rest disappoint you.
You have to keep in mind that this gear oil works best in limited-slip differentials. Another thing to note is that this oil is vehicle specific. Make sure it is applicable for your cars before purchasing.
Features and Benefits
Heavy-duty
This oil is long-lasting and super slick. It is designed to work at its best for heavy-duty vehicles.
Restrain Lubricity
It provides cushion-like support for your gears even under extreme pressure. This oil holds its lubricity under high temperatures.
Affordable
And last but not least, you can avail all these great features with an affordable price range.
Pros
Budget-friendly purchase.
Non-foaming functionality.
Longer service lifespan.
Better thermal protection.
Higher load protection.
Premium lube performance.
Cons
4. Valvoline SynPower SAE 75W-90 Full Synthetic Gear Oil
Longer service life is surely one of the features the consumers want from their gear oil. If you want the same, then Valvoline is here at your service.
Valvoline is a synthetically designed oil containing special additives. These additives protect the gear teeth from corrosion and rust. They also reduce noise in limited-slip conditions.
Features and Benefits
Better Cleanliness
This oil offers super thermal stability. It reduces deposition hence providing better cleanliness.
Maximum Lubricity Control
It is capable of maintaining lubrication even under extreme temperature fluctuation.
Great High-Pressure Performance
The fluid performs rather well in higher pressure conditions. It is recommended for non-synchronized manual transmission. API GL-5 or API GL-4 fluid specification is ideal for this oil.
Pros
Great thermal protection.
Cleaner formulation.
Prolonged service life.
Anti-corrosive additives.
Better fuel economy.
Cons
5. Amsoil Full Synthetic Severe Gear Lube
As the name suggests, Amsoil gear oil is designed to serve you in severe applications. This synthetic oil is a blend of high-viscosity and wear-stable based oils. It also combines high-performance additives for providing better performance in limited-slip differentials.
Even under high metal-to-metal meshing condition, this gear oil sustains the load and maintains its viscosity. Its formula can form a protective iron-sulfide coating on the gear surfaces to protect them from wear and friction. The additives protection layer also prevents potting and scoring.
Features and Benefits
All-over Protection
It remains capable of preventing any occurrence of 'thermal runaway'. The integration controls friction and heat under high-stress conditions.
Smooth Performance
You can experience smooth operation every time you shift gears due to this lube's super shifting capability.
Versatility
This oil's viscosity rating is so versatile that it can outperform many other oils in the market nowadays.
Pros
Long-lasting protection.
Heavy-duty formulation.
Shear resisting action.
Thermal stability.
No thermal runaway.
Anti-pitting, anti-scoring.
Cons
6. Royal Purple 01300 Max Gear 75W-90 Synthetic gear oil
Searching for ultra-tough gear oil? Then look into Royal Max Gear oil as it is heavy-duty, tough oil was chosen by many consumers.
This oil is designed to provide maximum power along with ultimate protection. It makes a swift shift without any noise. Also, it keeps the produced heat in control without any overhaul.
This synthetic oil combines high-performance additive technology. All the viscosity ratings of this gear oil are engineered with hypoid friction modifiers. So, you don't need any separate additives.
Features and Benefits
Non-Corrosive
This gear oil is ideal for truck and automobile front and rear differentials and manual transmission units. Meanwhile, the oil is non-corrosive to brass, bronze, copper, and other soft yellow metals.
It ensures long gear and bearing life and also synchronizer friendly.
Maximum Mileage
When it comes to heavy-duty 4-wheels vehicles like trucks, this liquid helps to reduce drag. The supportive function in term results in a great improvement in gas mileage.
Less Friction
This formula provides a low frictional coefficient. Another great thing is that it comes with post-purchase support.
Pros
Maximized output power.
Long gear and bearing life.
Low operation temperature.
Consistent anti-corrosion.
Environment-friendly design.
Limited-slip differentials.
Cons
7. Castrol 06674-6PK Syntrax Limited-slip 75W-90 Gear Oil
What is your priority when it comes to buying gear oil? If you are looking for a lube with an extended drain interval, then look no further. Castrol gear oil is here at your rescue.
Castrol gear oil is not just any oil; it is fluid engineering itself.
Features and Benefits
Longer service life
This ultra-precise gear lube ensures long service life. So, you don't have to change your gear oil frequently.
Maximum Protection
This oil is completely synthetic. So, you can expect high wear protection along with a low frictional coefficient. It also provides maximum shear protection even at different pressure.
Ultimate Thermal Stability
Thermal stability is another great feature of the liquid. It maintains the quality of even inter extreme temperature conditions. This oil is compatible with conventional and synthetic oils, including API GL-5 and MT-1.
Pros
Shear stability.
Extended drain interval.
Long service life.
High wear protection.
Thermal protection.
Cons
75W90 Gear Oil vs 80W90 Gear Oil
The first thing to know is that both the 75w-90 and 80w-90 rating specifies the oil's viscosity. Now if the number is 60 or higher, then it sets gear oil. And the numbers lower than 60 determine the oil is engine oil.
Now that we know the very basics of this kind of viscosity rating, let's see the difference between 75w-90 and 80w-90 gear oil?
75W90 Synthetic Gear Oil
The 75w-90 gear oil is recommended to use under extreme pressure conditions. It is also ideal for limited-slip differential and performs well in a colder climate.
Well, as the name suggests, 75W-90 is mainly synthetic or synthetic blend oil. It's the main difference in 75w90 gear oil specifications from 80w-90.
It is used in heavy-duty manual transmission. Axles and final drive are also ideal. This oil is synchronizer friendly.
This oil is thermally stable. So, high temperature doesn't affect the protection film of this oil.
80W90 Gear Oil
This oil is petroleum-based. It can also be used in high-pressure conditions as in the previous variation.
The formula works as lube oil for heavy-duty trucks or buses which have a non-synchronized manual transmission.
This oil also works great for conventional and limited-slip differential.
Now, your vehicle may have some specific requirements when it comes to oil viscosity. Before purchasing, make sure to go through the manufacturer description and choose accordingly.
Frequently Asked Questions (FAQs)
Q: What is 75w-90 gear oil used for?
Answer: 75w-90 gear oil is used for limited-slip differential. It is great for cold weather. This oil works well even under extreme pressure and temperature condition. This one is ideal for heavy-duty manual transmission. It is also recommended for synchronizers and manual transmission.
Q: What does 75w90 mean?
Answer: 75W-90 is a multigrade viscosity rating. This rating shows both the low and high-temperature ratings. The first 75W means that in winter, the viscosity rating is 75. On the other hand, when the oil is heated, the viscosity rating will be 90.
Q: Can I use 80w90 instead of 75w90?
Answer: Well, 80W-90 has a similar temperature specification as 75W-90. So, it will work in a warmer climate. But the 80W-90 is thicker (until it heats up) than the 75W-90. So, in winter, the vehicle will have a hard time starting. This adversity will also hamper the fuel economy.
Conclusion
Gear oils are available in various types and quality. Not all oils are made equal. What oil will work best for your automobile depends on your vehicle's specification, performance demand, and weather conditions.
Make sure the lube oil matches the specification of your vehicles properly. Otherwise, it might cause harm to your transmission system. And also, will cause power loss and reduce the fuel economy at a great scale.
We tried to give you an insight into the very basics of the gear oils available. Therefore, you don't have to go through a trial and error yourself.
You can go through our recommendations and decide what will be the best 75w90 gear oil for you. Hope this will save you some money and time as well.
Happy Driving.